What is Mental Performance?
The Canadian Association Sport Psychology defines applied sport psychology as the development of mental abilities, cognitive and emotional skills, techniques, attitudes, perspective, and processes that lead to improved performance and positive personal development. Mental performance is a lot like physical preparation. You must know your current level, strengths and weaknesses, and reinforce them daily according to the unique objectives and experiences of individuals and teams.
As a mental performance consultant, I work both with individuals and in groups on skills such as managing stress, emotions, thoughts and pressure, on resilience, self-confidence, team cohesion and leadership.
Mental skills are not a substitute for training (physical, technical, and tactical), sleep or nutrition, it allows the individual to acquire complementary tools.
Ultimately, all the planning and work done before and during the season allows athletes and coaches to put in place strategies to get to know each other better, to overcome obstacles and demonstrate their physical capacity through an optimal mental state.
To conclude, I leave you this quote that defines the essence of my work: " Sport is played with the body, but is won with the mind "
Who can use this service?
Everybody! We need to understand that mental performance is not just for those with psychological challenges or for elite athletes. Mental performance can be proactive and reactive for anyone who wants to improve their mental capacity and take their game to the next level. We help great athletes/coaches to be great athletes/coaches, and great athletes/coaches to be elite athletes/coaches.
Am I too young or too old?
Never ! The brain is like a muscle that never stops evolving and adapting. As with training in the gym, it is up to us to decide at what level we want to train our brain and help it adapt in such a way that it promotes the achievement of objectives. Each individual is unique, and that is why the preparation is not the same for each individual, there is no algorithm or recipe to follow. It is my job to adapt my interventions and strategies to the needs and attributes of each.
Who am I?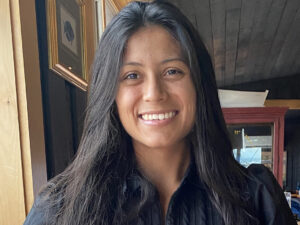 My name is Nathalie Prieto, I am a consultant in mental preparation, a physical trainer, and an athlete.
Sport is both my passion and my job. I've played competitive soccer all my life and rugby had an important role in my entry into academia. I also took part in volleyball, track and field, horseback riding, swimming and basketball recreationally. Curiosity, personal development, diversity, and integrity are the values ​​that underpin my daily life and my work.
As a natural caregiver, I have always enjoyed interacting with people, creating strong bonds and offering my support. It is by combining my strengths and my passion that I was led to work as a first-line worker and physical trainer for university teams and for active people in the community. All these elements and experiences led me to a master's degree in human kinetics, concentration in intervention and consultation at the University of Ottawa. My varied studies in the field of health allow me to have an overview and a holistic approach to the client and his life. My goal now is to support athletes and coaches in the progression of their performance so that they achieve their goals and improve their performance.